Porous Gas Spargers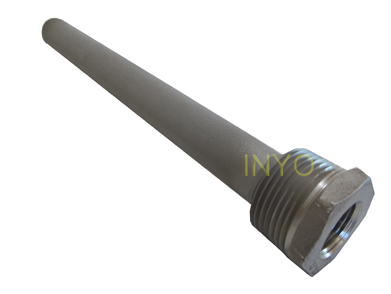 Shown: 0.8" dia x 6" long porous sparger with 1/2" npt Internal thread for gas connection and 1" npt thread for connection to pipeline or tank (Model PMT10S6)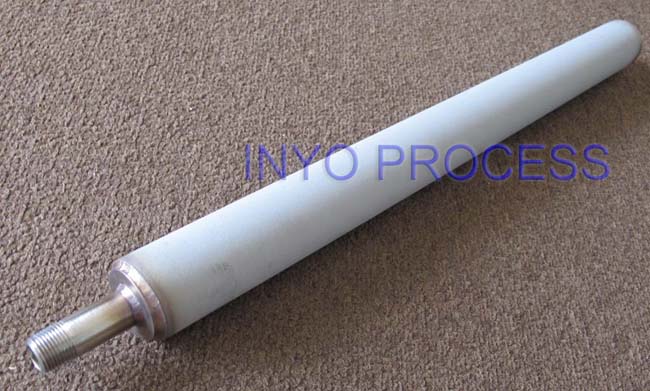 Shown: 2" x 24" long porous sparger (Model PMMT20S24)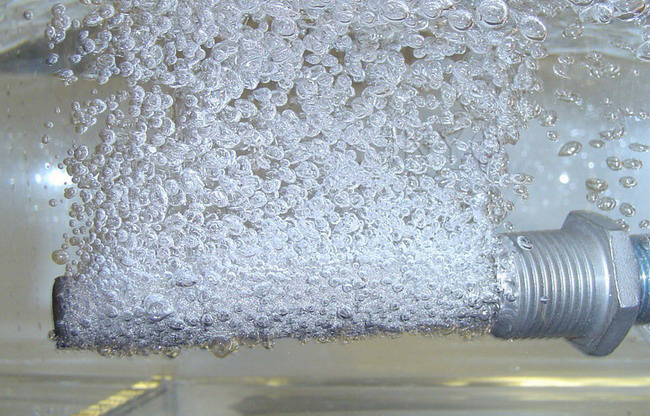 Inyo Process' line of porous metal seamless injectors create bubbles smaller and more numerous than a drilled pipe or other types of spargers. With greater gas/liquid contact area, the time and volume required to dissolve gas into liquid is reduced.
The most important factor when injecting gas into liquid is to increase the surface area of the gas to ensure fast absorption into the liquid. This is accomplished by reducing the bubble size, which creates many slow moving, tiny bubbles that result in a large increase in absorption.
The advantage of the Inyo Process injectors is the tight and consistent pore structure to all of our stainless steel gas injectors. This consistent pore structure provides a high bubble point which results in tiny, consistent bubbles.
All stainless construction lasts for years. The durable all –welded construction will remain trouble free for many years. Often the porous injectors can be easily cleaned using a ultrasonic bath.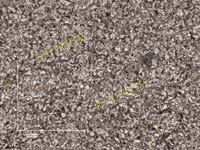 Click on thumbnail for a magnified view of the sintered stainless porous media surface
Inyo Process can provide a variety of styles. If you need a nonstandard size or special fitting, or specialty metals such as titanium, we are able to provide solutions.
Materials of construction: 316L stainless steel porous media, 316 stainless steel hardware. Filter element 100% leak tested to bubble point.
Sizing Information
Filter area
3/8" Ø element: 1.1 in2 per inch of porous length
1/2" Ø element: 1.57 in2 per inch of porous length
3/4" Ø element: 2.35 in2 per inch of porous length
1" Ø element: 3.14 in2 per inch of porous length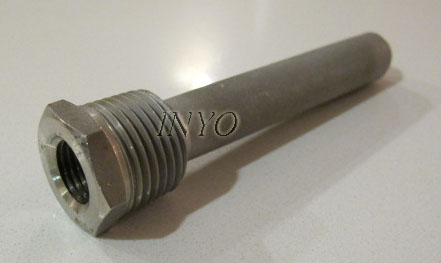 A standard porous sparger configuration (Model PMT10S4 shown). The internal/external thread combination allows easy installation in pipelines and tanks.
1/2" diameter Porous sparger with 1/4" tubing connectors (Model PMTU5S8T6 shown). Often used for temporary/prototype lab work.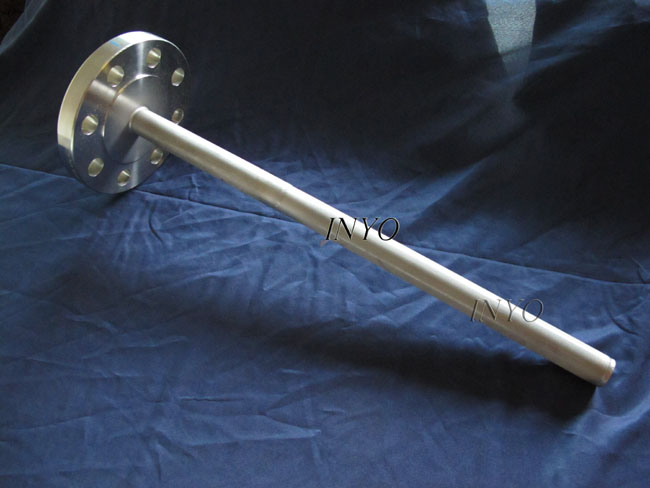 A 300# flanged diffuser with extension pipe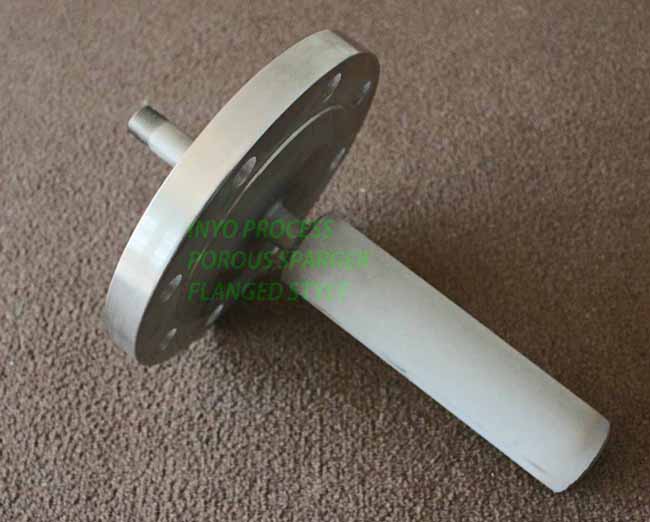 Flanged sparger with integrated blind flange (can also be provided with a separate blind flange with threaded coupling to allow for easy cleaning or replacement of sparger)


Retractable sparger design allows for removal of the porous sparger while pipeline remains under pressure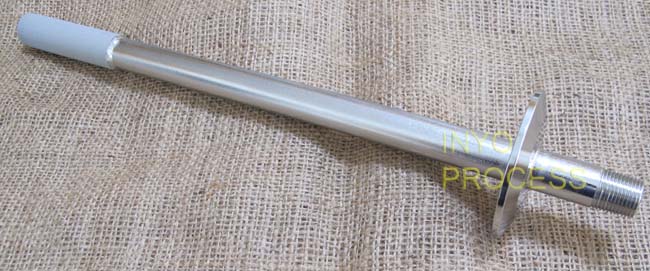 Sanitary porous sparger with electropolish finish for fluid milk application
Porous Metal Injector & Sparger Sizing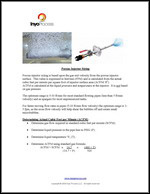 This paper describes the sizing of a porous stainless steel sparger or injector.

Download this paper (193 kb)
Standard Porous Sparger Drawings
---
Pipeline Spargers
Installing a porous injector in a pipe will always result in greatly reduced bubble size. The gas will exit from the outside of the porous injector, and the bubbles are immediately sheared by the liquid, resulting in very tiny bubbles and greater absorption.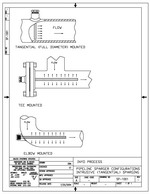 Download drawing showing pipeline sparger configurations (23 kb)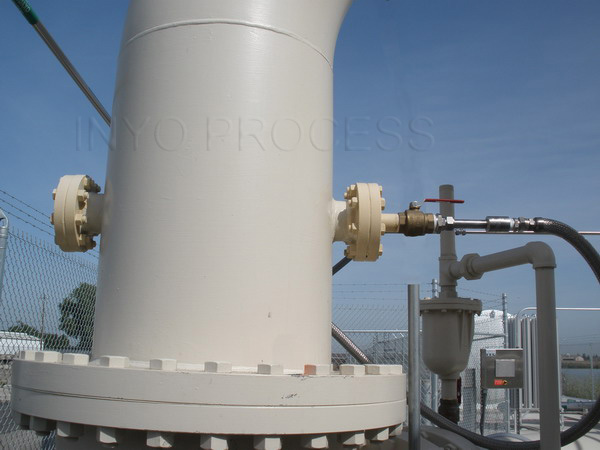 Injectors can be mounted across the pipe diameter
---
External Spargers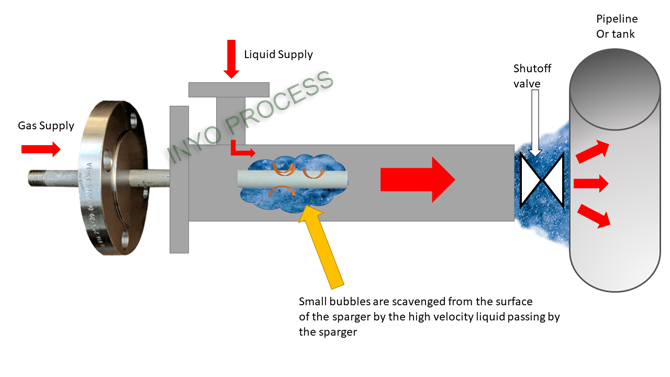 We can also supply a complete line of external spargers, which use high-shear tangential forces to produce a stream of micro-bubbles.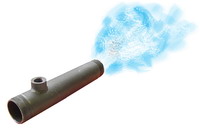 Call factory for sizing and application information