PVC, CPVC & Kynar Injection Quills Metal Injection Quills Multi-Orifice Injection Quills Teflon Injection Quills
---
Metal Injection Quills

Injection Quills are available in a range of materials including:
316L Stainless Steel

Hastelloy C-276

Titanium

Alloy 20
Metal Injection Quills provide an excellent choice for durability & strength
Metal injection quills are particular useful for longer injection quills over 6 inches.
When injecting chemicals such as sodium hypochlorite & acids, care must be taken in the choice of compatible material.
For additional information view our
Metal Injection Quills are available in two configurations: QM & QMM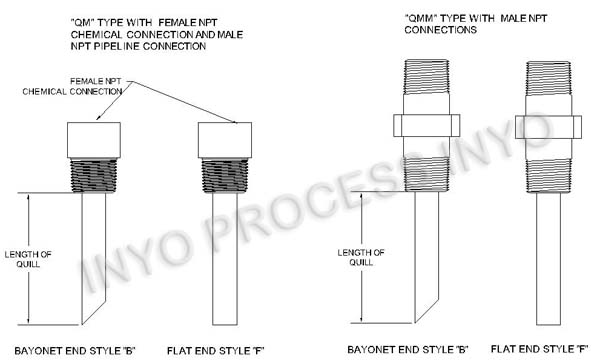 ---
QM style - A male/female npt fitting with a female npt for the chemical connection that allows for easy connection to a pipe or threaded npt tube fitting.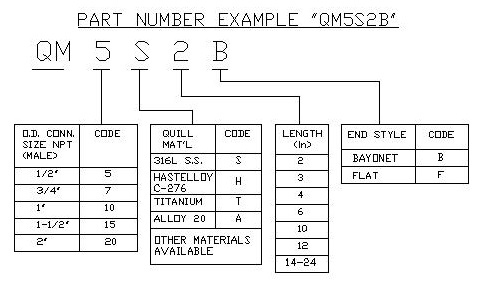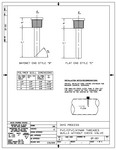 Download QM Metal Injection Quill Data Sheet (648 kb)
---
QMM style - A dual male npt end which allows for easy connection of a check valve or coupling or shut-off valve.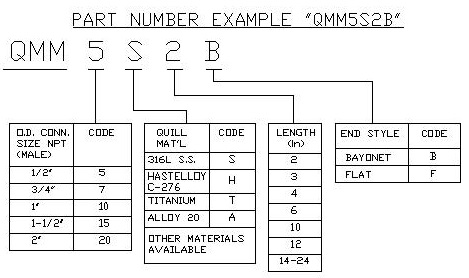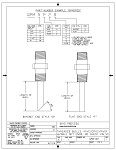 Download QMM Metal Injection Quill Data Sheet (50 kb)
---
Inyo Process can offer custom versions of these injectors to meet your requirements.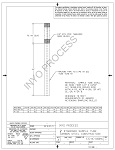 High Pressure Sampling quills (sample tube) Aramco AE-036046 (50 kb)